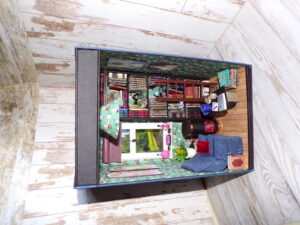 Welcome to Tilly Lane Treasures, the home of my constant crafting creations. I love to upcycle, recycle and recreate things, turn something unwanted, into something different and new. Check out my new Book Nook shelf inserts, and brighten up your bookshelf with these fab little works of art that light up.
Settle down with a cuppa, and treat yourself to something lovely, you deserve it! You can pay by Paypal even if you don't have an account using any card. If you are in the UK, please buy from my website and save me paying fees to Etsy or Ebay.  None UK buyers,  due to local taxes payable by some of you ( which is too complex for me to add to my checkout)  please go to my Etsy shop to buy where it is automatically added to your purchase. If you are in the UK, please buy from my website as it saves me on seller fees! You are protected the same as Etsy, through paypal.
My Etsy shop.
If you are in France or Germany,  I am not registered with the recycling schemes for these countries, but can sell through global shipping on Ebay, as they deal with the recycling scheme on my behalf. So please contact me on the form below and I will list it for you on Ebay.
New stock always being added, so keep checking for new goodies.
POSTAGE. I am UK based, I post UK book nook orders Royal Mail special delivery, guaranteed next day by 4pm in most cases this is true, but please allow for delays due to the Virus.
I have had one of my stags heads in Period Homes and Interiors, in an advertisement for Remade in Britain.
I was featured in the Birmingham Evening Mail.
I am featured in The Telegraph….. well one of my  trophy heads is !
 http://www.telegraph.co.uk/finance/picture-galleries/11620339/Trendy-furniture-made-from-old-tat-upcycled-gems-revealed.html?frame=3312742 
Contact me using the form below.