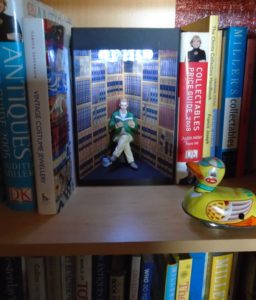 Welcome to Tilly Lane Treasures, the home of my constant crafting creations. I love to upcycle, recycle and recreate things, turn something unwanted, into something different and new, but I do use new materials too. Check out my new Book Nook shelf inserts, and brighten up your book shelf. I also have a 'thing' for vintage china and other vintage goodies, so peruse those sections too. So settle down with a cuppa, and treat yourself to something lovely, you deserve it!
New stock always being added, so keep checking for new goodies.
Want to buy several items? want to make an offer on an item? Please use the contact form below to make your offer, telling me the item code number, or a description of the item.
I have had one of my stags heads in Period Homes and Interiors, in an advertisement for Remade in Britain.
I was featured in the Birmingham Evening Mail.
I am featured in The Telegraph….. well one of my  trophy heads is !
 http://www.telegraph.co.uk/finance/picture-galleries/11620339/Trendy-furniture-made-from-old-tat-upcycled-gems-revealed.html?frame=3312742 
POSTING ABROAD. I will post to anywhere in the word, just enquire below for a price.
Contact me using the form below.