Description
CLICK HERE TO BUY ON ETSY
Liven up your book shelf with this book nook shelf insert. A garden scene photograph is the background, with two majestic garden gnomes. The LED lights are inside daisy flowers on a fake grass base, with a 'welcome to my garden' garden gate, its very kitsch! the ceiling and it really shows up when turned on in the dark!
The battery pack is attached at the back, at the top of the spine for ease of changing the batteries. It uses 2 AA batteries.
The book is orange ( but you wont see that when it's in place) with black finishing, and measures 9 1/2″ tall, the book is just over 6 3/4″ deep including battery pack, and almost 5 3/4″ wide at the front then tapers towards the back.
Hand crafted by me, taking quite a few hours, and made from new, as good as new, and for minor parts upcycled books, so please allow for minor blemishes . Yes I treasure books but lots of unwanted hardback books end up in landfill as they cant be recycled. Rest assured the pages from the books I use have been removed from the spine, and have been recycled!
For adult collectors only, not suitable for children.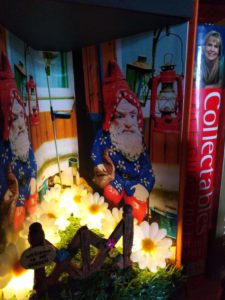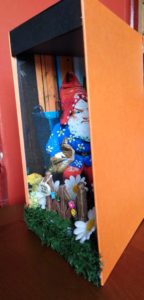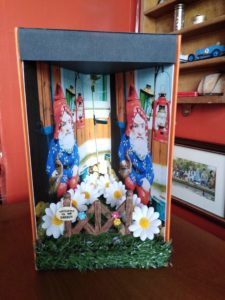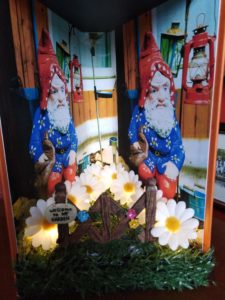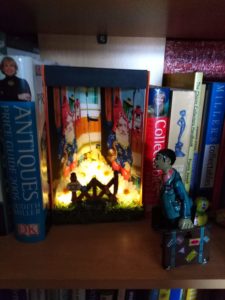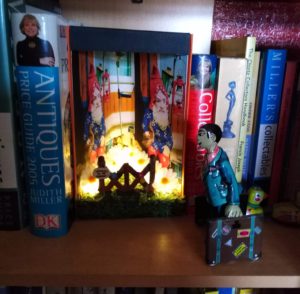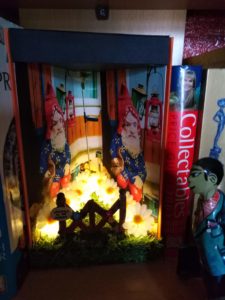 ©2020. Valerie Smith